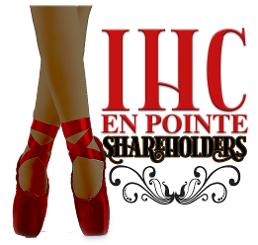 On behalf of DanceIHC, LLC, I would like to personally invite you to make a difference in the lives of our Dancers that are transitioning to college. This opportunity will allow you to become a philanthropist through advancing the welfare of others by your generous donation. Each year, DanceIHC, LLC will have senior(s) graduating from high school and entering two/four-year universities or technical institutions. It is our intent, to make a substantial donation to the institution of choice on behalf of the dancer.
I would like to request your support of the En Pointe Scholarship program and invite you to be an IHC En Pointe Shareholder.
The En Pointe Scholarship will be presented at the annual DanceIHC recital by all shareholders in 2023. We are asking that you consider sponsoring DanceIHC's En Pointe Scholarship Program and its' endeavors with either a personal or corporate donation.
What benefits do I receive by becoming an En Pointe Shareholder?
• The En Pointe Shareholder pin that will be worn during the presentation of the scholarship at the recital and all sponsored events. To be given at the annual scholarship gala.
• Utilize the organization for tax purposes as En Pointe is a non-profit organization.
• Reserved seating for (2) at each recital that you remain a shareholder.
Shareholder Contribution Levels
• Platinum_$200 or More Each Year
• Gold_$150 Contribution Each Year
• Silver_$100 Contribution Each Year
• Bronze_$50 Contribution Each Year
~Martresaca Howard, En Pointe Stakeholder